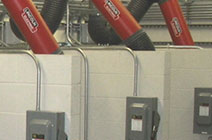 Our specialists can perform a comprehensive audit of your welding operations and will make recommendations based on the following:
Are you meeting all of the latest regulatory requirements for weld fume control?
Are there opportunities to improve productivity by creating a cleaner, safer work environment?
Can your current system be improved upon?

In support of our position as "The Welding Experts," we will also look at your weld processes to see if substitutions or changes to your consumables, gases, or procedures may have the potential to reduce fume exposure for employees. We offer a complete line of portable, stationary and engineered solutions for weld fume control.